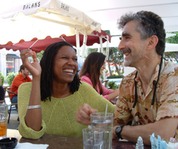 Nancy Ancrum has been a member of The Miami Herald's Editorial Board since 1990. The position has allowed her to indulge the policy-wonk side of her brain, as she reports and opines on municipal government, healthcare and education. She is also letters editor, banishing lack of agreement and misspellings from the opinion pages – basically saving writers from themselves. (One reader suggested that Florida "succeed" from the union.) A native of New York, Nancy holds a journalism degree from New York University. She also writes about food and culture and has produced food-related stories for Miami's NPR affiliate radio station. Nancy's freelance editing service  focuses on food, health, culture, travel and other life essentials.
George Fishman received a fine arts degree from the University of Pennsylvania. His commissioned mosaic projects grace hospitality, religious and private settings across the country.
He has served on several arts organization boards, presented workshops  and helped found the a non-profit South Florida Arts Center on Miami Beach in the mid-1980's.  Writing, editing, and audio production have been his focus since 2009. He hosted The Mosaic of Art, a weekly internet radio show that featured recorded and live phone interviews with diverse arts professionals. Since 2010, he has recorded and produced audio guides for galleries, individual artists and art centers, while also free-lancing as a writer for online and print publications.
GEORGE FISHMAN, Coastal Reflections of Fort Walton Beach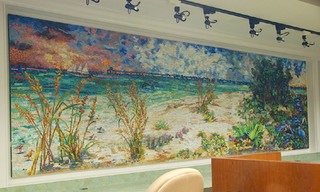 CONTACT THE HOSTS:
103 NE 99 Street
Miami Shores, FL 33138
305.758.1141
Skype: miamimosaics
Twitter:
Site established 8/11/2013
var sc_project=5892923; var sc_invisible=0; var sc_security="e736a7cd";